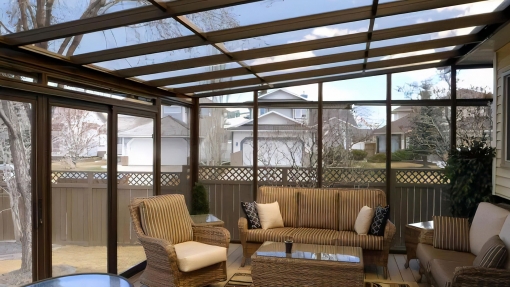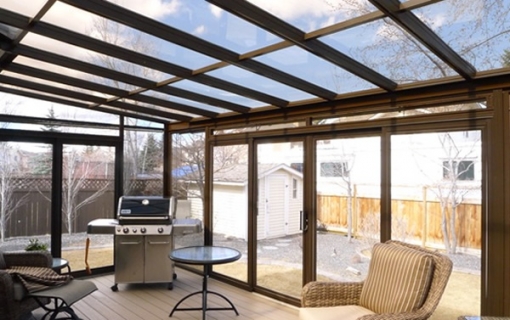 Details:  Screen rooms are perfect for people who enjoy being outdoors but don't enjoy pests such as mosquitos or ticks.
Common Usage:  Most people install screen rooms for a warm-weather area at their home or cottage where they can be free of pests.  Screen rooms are also favorites of those who are concerned with allergic reactions to bites or stings but still want to be outdoors.
Construction:  PVC, aluminum or wood construction with a variety of mesh screen configurations.  The construction is designed to be maintenance-free so there is no need to paint, stain or annually maintain your sunroom.
Pros:  Low cost with a high Return-On-Investment (ROI).  Increase the enjoyment of your warm-weather outdoor living space.
Cons:  Screen rooms do not extend your season.  Screen rooms need waterproof flooring.
Price Range:  Screen rooms come with a multitude of options and the price is determinate on the size and options requested.  A screen room with the following dimensions:
| Dimension | Value |
| --- | --- |
| Projection | 7 ft |
| Length | 10 ft |
| Height | 8 ft |
Can be yours for less than $9999, taxes in and with installation included.
Screen Rooms
Screen Rooms have many benefits over open-area decks.  –That's why they're so popular.  See why.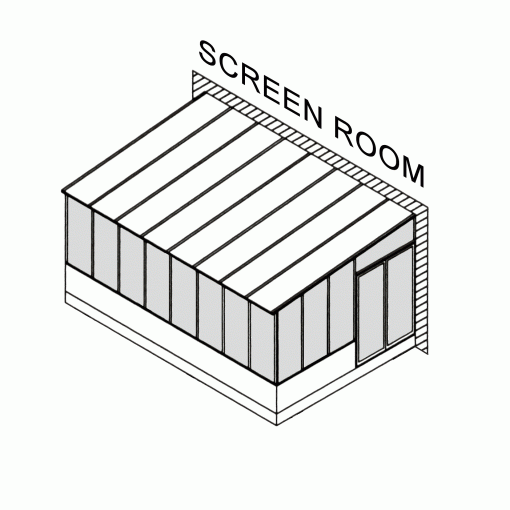 Features and Benefits of Screen Rooms
Enjoy The Warm Season Regardless Of The Weather
During the warm-weather months, enjoy your outdoor activities, regardless of the weather.
BBQ inside the protection of your screen room without the worry of rain, wind or insects.
In Canada, because of snow-load considerations, it's advisable to have a solid or glazed roof instead of only a screen roof that is seen in tropical climates.
Feels Like You're Relaxing In The Shade. Freely.
Screen rooms allow you to enjoy your deck or patio without the sense of being enclosed in an indoor space.
Enjoy the sunshine with overhead protection from harmful UVA and UVB rays.
Have a nap in the shade without the fear of sunburn.
Choose your type of UVA and UVB protection – in the shade or behind transparent UV-shielded glazing.
Outdoor enjoyment with indoor protection.
Protect Yourself From Harmful Pests
Protection from insects carrying disease.
Protection from stings and bites.
Enjoyment of outdoor meals and drinks free of flies and wasps.
Enjoy outdoors after sundown without annoying mosquitos.
Wind is great for flags and kites, but it's less enjoyable when doing other outdoor activities around the home.
High-quality screens dramatically reduce winds, making very breezy days much more enjoyable.
Screen rooms still allow free airflow so you'll always get fresh air.
With acrylic additions, our screen rooms can be built strong enough to withstand hurricanes.
Outdoor Protection From Birds
Bird droppings can be extremely toxic to humans.
Screen rooms prevent bird droppings on your furniture, BBQ and tables, making your outdoor environment truly outdoors but a lot cleaner.
Increase Your Property Resale Value
Your screenroom becomes a highlight of your home.
Zero maintenance.
No additional costs.
Make warm weather outdoors an attractive option.
The Washington Journal reports that a solarium or greenhouse addition to a home typically returns 108% on the homeowner's investment.
Find out how to easily measure out your sunroom and get a quote for your new sunroom here.
Compare Other Builds Here